Rome: a virtual trip
Guides
It is often said that a lifetime is not enough to get to know Rome. At Nozio.com we fully agree with this statement: seeing its most important monuments, visiting its museums, walking along its streets, you can only get a vague idea about this complex city. For this reason, we have decided to offer you a trip to Rome that is not a classical itinerary: Ours will be a virtual itinerary to discover Rome through the eyes of artists and intellectuals that have loved, played and represented this city.
We have chosen two artistic environments, the cinema and literature. We have had to make a selection here too, however: the list of suggestions could have gone on forever as Rome has been, and still is today, a powerful source of inspiration.
Literature
Marguerite Yourcenar wrote the novel "Memoirs of Hadrian", a literary reconstruction in the form of letters-monologue of the life of the famous Roman Emperor. The work was the result of years of historical research and a long series of trips to the sites of Hadrian. To imagine yourself part of the world of Imperial Rome.
In 1829, Stendhal wrote a kind of guide book-story of Rome entitled "Walks in Rome". The French writer compiled a large quantity of notes that he took down during his stays in the Eternal City, and invented a series of artistic and cultural itineraries that still excite each visitor today. Getting to know Rome in the company of an exceptional tour guide.
In 1889 Gabriele D'Annunzio published "The Child of Pleasure", a book in which he tells the story of a Roman man, Andrea Sperelli and his debauched and decadent life that was considered a "work of art". An aesthetic exaltation of Baroque Rome with its magnificent villas and amazing fountains. To submit to the attraction of a sensual, decadent Rome.
Pier Paolo Pasolini lived in Rome for many years and was one of the keenest interpreters of this city. Some of his poems dedicated to Rome were gathered together in the book "La religione del mio tempo", while the most famous of his novels is perhaps "Una vita violenta" the result of his social interest in the lowest classes of Roman society who lived "beyond the last stop". For understanding the difficult life in the Roman suburbia.
Cinema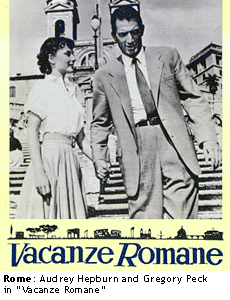 In 1945, immediately after Liberation, the film director Roberto Rossellini rapidly filmed one of the Neorealist cinemas masterpieces: "Rome, open city". The main actors in the film were another two first-class Romans: Aldo Fabrizi and Anna Magnani. For reliving the drama of the Nazi occupation of Rome.
Rome, two Hollywood actors and a vespa. "Roman holiday", with Gregory Peck and Audrey Hepburn, launched the fashion of vespas and Rome was filled with American tourists all fascinated by the places seen in the film. How to get tearful over a sweet love story in the splendid setting of Rome.
In "An american in Rome" by Steno, Alberto Sordi, one of the brightest stars of Italian comedy, interpreted all the stereotypes of the typical "down to earth Roman" with his unforgettable alter ego Nando Moricone. To have a laugh by watching one of the funniest films in Italian comedy film history.
"La Dolce Vita", an unforgettable film by Federico Fellini inspired by the society news that filled the newspaper columns in that period and which all took place in a single setting: Via Veneto. For having a look at the places and personalities who made that period so famous.